How to extend Vietnam visa directly with the Vietnam Visa Services?
Du học nghề Đức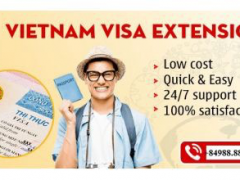 Du học nghề Đức
How to get extend Visa in Vietnam?
Please kindly follow 3 steps below to get visa extension to prolong your stay in Vietnam
Step 1: Make a copy of your current visa + entry stamped sending to [email protected]. We will check the fee and procedures and then notify you shortly by responding to your email with cost and time to process.
Step 2: We will instruct you to visit our office in person or using courier to send passport to our office if you are not staying closing to us.
Step 3: After confirmed the processing time, you can pay the extending fee in VND or USD in advance by cash.
For further details or question, please don't hesitate to contact us at 24/7 hotline +84.9.88.88.55.60, or email us at [email protected].&n bsp;we would be pleased to assist you with detailed instructions about Vietnam visa extension.
Required Documents:
Original Passport.
Address of accommodation in Vietnam.
Processing time:
Standard service will be 7-10 business days
Express can be 1,2,3,4 Days (depending on how is your expect time to get it).
To apply for your Vietnam visa extension, you can send your current visa to our email [email protected], including your passport scan, current visa scan, the immigration stamp, the latest date of entry, your current address in Vietnam for checking to get a best solution.
Our professional and helpful staffs are willing to help you 24/7. Come with us in order to save time and get more enjoyable things for your trips. Contact with us via email or Hotline.
Company address
Vietnam VisaPro
Level 3, Number 1 Đinh Lễ (Đinh Lễ Building), Ward 12, District 4, Ho Chi Minh City
Find our office on Google Maps now
City: Ho Chi Minh City
Whatsapp / viber / Zalo: (+84) 9 8888 5560
Email: [email protected]